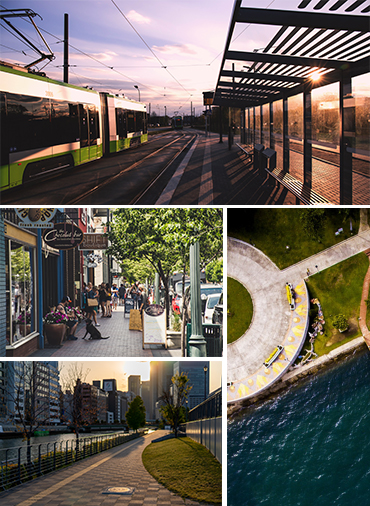 Civic + Public Space
The masterplan features a primary civic spine along the north connected to the university and the lake framed by active uses. The spine is policed with landscape and water features to provide a comfortable microclimatic.
Serves as a central space for community life.
Primary link (pedestrian, light rail and vehicular) through the civic centre to the university.
Connecting key spaces and precincts – The World Trade Centre Hub, The Market Place, The Cultural and Education Precinct, the railway station, Bringelly Creek and The University of Sydney Campus.
Public/installation art
Light rail, pedestrian and vehicular link
Transport
Multi-nodal transport hub at the economic/ World Trade Centre Hub connecting all three cities of Sydney.
Internal Light Rail network connecting WTC with University, and future developments East of site.
Network to support alternative energy vehicles
Metro Rail network through Airport, Aerotropolis, and WTC.